Low Cost Space Tech Developed At The ESA BIC UK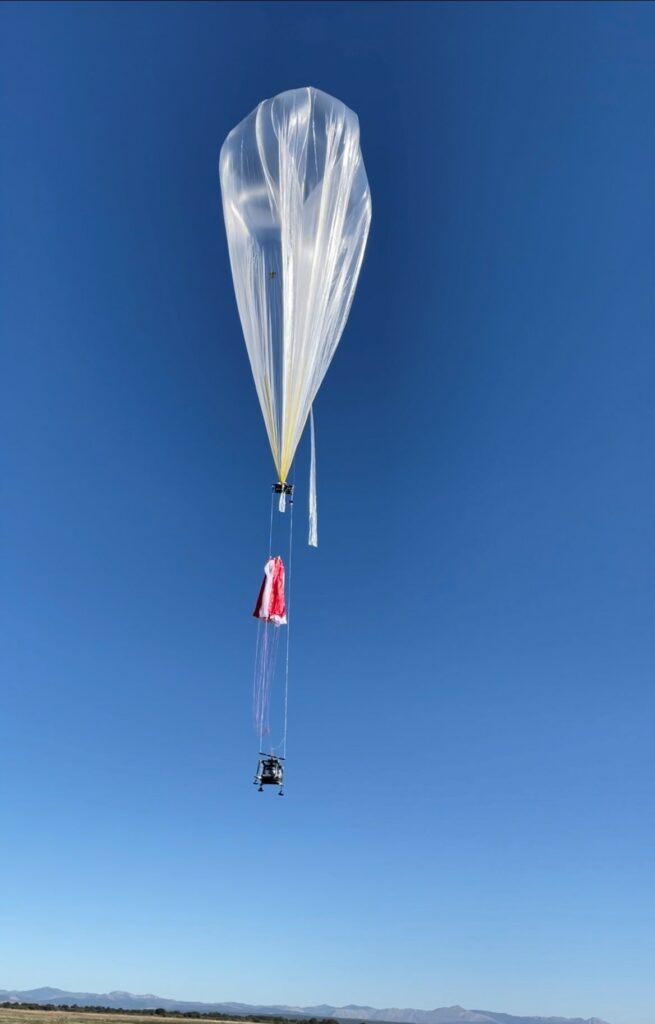 B2Space is developing innovative and disruptive launch solutions for the space industry, creating low-cost technologies and systems for small and microsatellites.
The Challenge
Accessing space can be a challenge for many small businesses, with the high costs for launching rockets into orbit and complex situations that can cause delays in the process in the growing satellite sector. Created in 2016, B2Space was inspired by a video of Red Bull Stratos mission, where Felix Baumgartner flew 24 miles into the stratosphere via a helium balloon, before freefalling and becoming the first person to break the speed of sound. The B2Space launch system, the "rockoon" (rocket balloon) uses giant stratospheric balloons to transport rockets into the upper atmosphere, skipping the highest density part of the atmosphere, therefore being able to save up to 80% of propellant and cost compared with
traditional launchers.
While developing this technology, B2Space performed many flight tests, and realised that accessing the stratosphere, where there can be found "near space" conditions is an ideal way to test, validate and qualify space technologies, components and systems, while performing
real life mission simulations. B2Space had a vision of democratising the access to orbit for small satellites and test parts for satellites in Low Earth Orbit but required access to unique facilities, networking, technical expertise and funding to make this vision a reality.
The Solution
Funding of €50,000
Technical and business support from STFC
Networking opportunities at the Harwell Campus and wider STFC network.
The Benefits
B2Space joined the ESA BIC UK in 2018 with the aim of developing a dedicated, customisable stratospheric testing platform using its stratospheric balloons. In 2019, B2Space began the first of many test launches for the company's novel "Near Space Test Bench", a flying lab in the stratosphere. This technology allows businesses to remotely test components designed for use in space, in conditions similar to those in orbit. Through the ESA BIC UK, B2Space has gained access to a wider network and in 2020 collaborated with other incubatees via a 'Call to Orbit' programme. A programme launched by ESA BIC UK alumnus Open Cosmos in partnership with the European Space Agency to support the development of new space applications and technologies.

Since completing its incubation at the ESA BIC UK, B2Space has raised more than £3 million in private funding and grants and has now amassed an experienced, ambitious team of over 20+ people, supported by strong industry partners. B2Space has over 15 customers, aiming to continue the intense testing process, and validation campaigns.

In February 2022, B2Space achieved a successful rocket launch, the last step in its technology roadmap and demonstration for its rockoon launch system. B2Space has also grown in other areas since graduating, offering consultancy services such as Spaceflight Safety where it has won projects with Spaceport Cornwall and Virgin Orbit, and a range of programmes, including an international university programme, 'Blue Jay' that provides students with unique opportunities to learn, develop their skills and test their experiments.
"Joining ESA BIC UK put B2Space in the perfect position to take our business to the next level, and we
experienced benefits straight away, both from a commercial and a technical perspective.
I believe we are a great example of how accessing the right technologies, skills, funding and business support can help start-ups use space technologies in new ways, creating new business opportunities and support the creation of high quality jobs."

Valentin Canales, Co-Founder B2Space